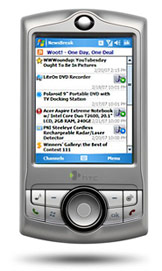 In the past, news moved at the speed of print. The news cycle, as it is called, was short and rigidly scheduled. News was reported twice a day: once in the morning and once in the afternoon. Therefore, you could wait until you got home from work to read the newspaper without fear of missing anything. Today, the news cycle never ends. Updates are broadcast as they occur over the Internet and over 24-hour news channels. In fact, when a vote occurs in Congress, you can usually find the results on C-Span before visitors in the chamber know what happened. This 24-hour news cycle mean that frequently by the time you receive the newspaper, it is already irrelevant. So, how do you keep up with the world events in this kind of an environment? Until recently, television and the Internet were sufficient. More often, however, people are spending an increasing amount of time away from their televisions and computers. Frequent readers now that I spend nearly three hours a day riding the train. By the time I reach my computer, too much has happened in the world to ignore. So, how can I keep in touch while I am on the train? That, essentially is the question which Ilium Software has answered with NewsBreak.
Installation and Registration: You can download NewsBreak as a desktop installation file and install it on your device via ActiveSync (now known as Mobile Device Center) or download the .cab file directly to your device. Either way, you will be provided with a whopping 30-day trial. This is about 29 days longer than you will need. By the time the 30-day trial period does expire, you will be firmly under Ilium's control, and have no choice but to register this fantastic program.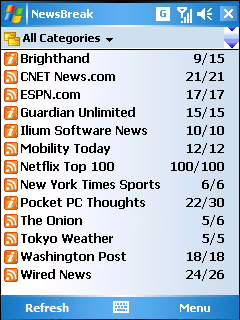 NewsBreak Channels: The main screen shows a list of all of the channels to which you subscribe. By default, this list is organized alphabetically and shows all of your news channels. For further organization, however, you can create any categories which you need, and assign the channels to your various categories. By selecting the pull down menu at the top of the screen, you can instruct NewsBreak only to show channels assigned to that category. This is a great option for organizing your content. This allows you to view all of your sports feeds at one time, without being interrupted by new of the Middle East or stock reports.
Additionally, if you are in a rush, click the view button and switch the display to show only channels with new headlines. This ensures that you will not waste time scanning through stories you have already read. In this way, you can cut right to the chase and begin reading only the latest and most current headlines.
At any time, while you are connected to the Internet, you can hit refresh channels under the tools menu to download the most up to the second headlines. If you are like me, however, and have 25 things to do when you are online and never remember to update your news feeds until just before the train goes into the tunnel, well, all is not lost for you either. NewsBreak has a fantastic auto-update feature. When auto-update is turned on, NewsBreak will automatically seek out any updates at predetermined intervals. You can also determine how auto-update will work. You can set it to update whenever a network connection is established, only when connected via ActiveSync, or even to create a connection automatically when it is time to update. I have found auto-update to be the perfect solution for a busy professional. This ensures that even when I forget to manually update my channels, I will always have the latest and most current news at my fingertips.
Reading News Articles: Just tap on any channel, and the screen will shift to a list of all of the headlines on that channel. You can view all of the channels in order by date, status or keyword. You can also choose to filter out stories which have already been read so that only the unread headlines will appear, or filter by keyword. Just tap on any headline to read the story.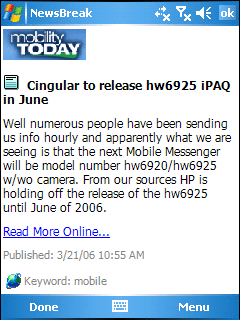 Sharing News Articles: Frequently, when I am finished reading a story or RSS feed, I will have a list of people who absolutely, positively, must see that story. Whether it is a sports score, the Pittsburgh Steelers new coach, or a link to a story for us to cover at Just Another Mobile Monday, the ability to save stories for future reading and share them with others is essential in a program like this. With NewsBreak, saving and sharing articles could not be easier.
From the story you want to share, simply select Save Link To File under the Tools menu, and you will be brought to a save window, allowing you to save the link as a file anywhere on your device.
Likewise, from the same menu, you can select Send Link Via Email, and a new email will be created with the link in the body of the message. The only thing I did not like about this was that it opens the message in the Outlook messaging program, instead of your default email client (such as FlexMail). I would like to see more interactivity with third party email programs, so that I can send NewsBreak articles directly through FlexMail or other programs.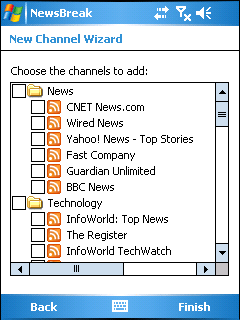 Adding New Channels: It is easy to add new channels, as long as you know a little basic information about the site. Any website with an RSS or XML feed can be added to NewsBreak. Just look for this icon:
anywhere on the site you want to add.
From the main screen, simply select New and the New Channel Wizard will appear. From here, you can import an OPML file created by another RSS reader, manually enter an RSS URL, search online for channels, or select channels from a preselected list created by Ilium.
Additionally, from your mobile device, if you go to Ilium's web site, click on the NewsBreak More channels page to download new channels directly to your device.
Today Screen Plug-in: I have mixed feelings about the Today Screen Plug-in. As I have said before, I feel the today screen plug-in is one of the most overused features in the Pocket PC today. Every Today Screen Plug-in must be evaluated to determine whether it adds significant value to your today screen, and whether it offsets the resources it consumes.
I rarely feel that today screen plug-ins enhance my use of news readers, and to be honest NewsBreak was no exception to this rule. The plug-in itself is not big. It is simply one line which tells you whether you have any unread news feds. Tap the plug-in to open NewsBreak. I felt this took up resources on my today screen unnecessarily. This same information could easily have been conveyed with a simple color coded icon. I disabled the today screen plug-in, and have noticed no difference in my enjoyment of this program.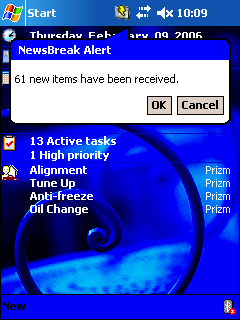 Alerts and Notifications: NewsBreak can send a notification to your device anytime a new update is received. Of course, if you have more than a few channels, this can result in receiving alerts several times an hour. Therefore, you will soon find yourself overwhelmed with notifications that you really do not need. Ilium has this covered, though. In most programs like NewsBreak, the notifications are either on or off. You either get them all or none. Ilium adds a third option which allows you to add keywords, and receive notifications only when an update matches your keywords. It is this kind of attention to the specific needs of the user that has propelled Ilium Software to the front of the mobile software industry.
Conclusion: I use RSS feeds every day to monitor the headlines for stories which we might need to cover here at Just Another Mobile Monday. Therefore, having an easy to use feed reader is essential. I have tested and rejected a number of different feed readers. Finding one that allowed me to easily sort, save, and share my feeds proved to be a significant challenge…until I found NewsBreak. From the moment I picked it up, every feature was exactly where I needed it to be. My only regret is that there is not a complimentary desktop version, as there is with other Ilium products. The ability to add or update channels from both your mobile device and your desktop, and then sync them, would be a welcome improvement in the next version.
Vital Statistics:
Name: NewsBreak
Version: 1.2
Platform: WM 2003 SE
Also Available: WM5, Smartphone
Developer: Ilium Software
Available From: Ilium Software
Price: $19.95
NewsBreak is a JAMM Essential Application. Purchase it at the JAMM Store and use the coupon code JAMM-Essentials to receive 15% off the purchase price.
Technorati Tags: news – break – headlines – rss – Ilium – Just – Another – Mobile – Monday